G A T E H O U S E - Residential Extension to existing home in Hackney, London
This new extension gently floats between a late Victorian barn and an old 4-storey block of flats. Its insertion within this urban interstice relieves the family's need for additional space in the form of a glazed utility room and play area; while articulating this no-man's land to create a new secured entrance and an additional storage area on the ground floor.
The gatehouse also reconnects the house on the 1st floor with the back garden via an elegant spiral stair -until now only accessible through the commercial studio on the ground floor.
A lightweight subtle intervention that achieves a multiplicity of functions and improvements in and around the existing house.
Construction: Spring-Summer 2018
Concept, Design and Development by Israel H Cola and CS Studio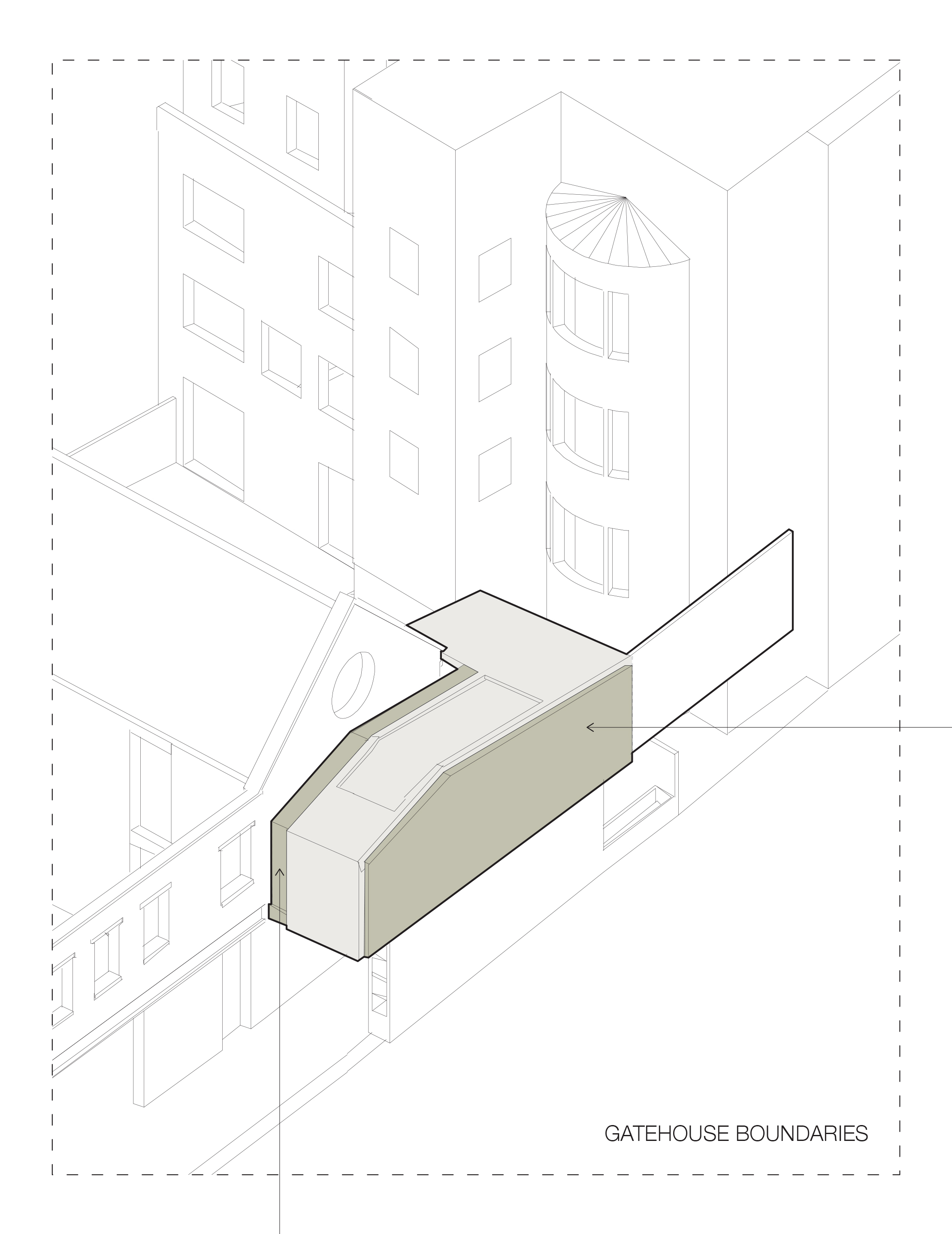 The glazed extension sits between two buildings at first floor level, within a very dense site in East London
We created an additional access from the studio's backyard, through a bespoke spiral stair and balcony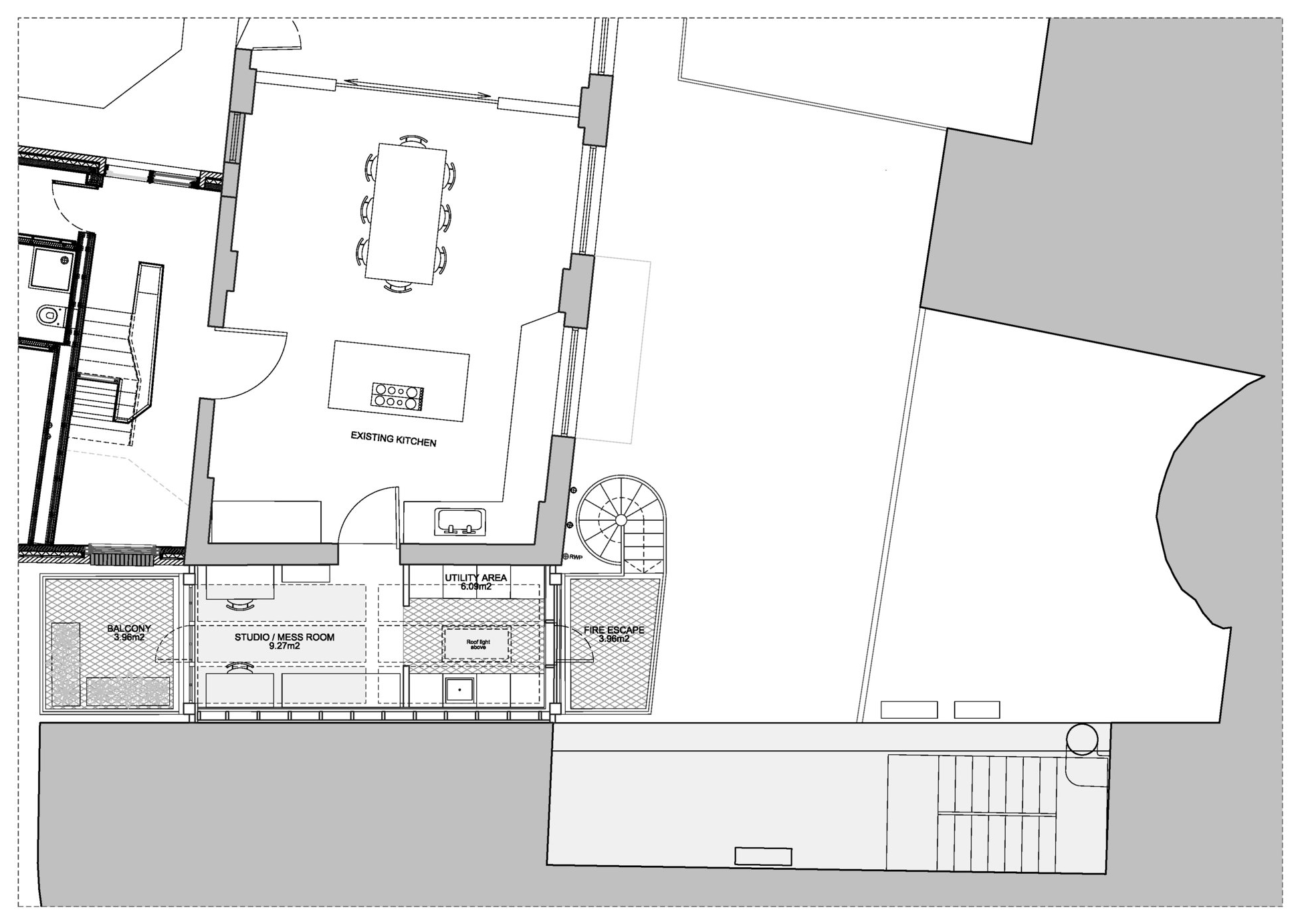 First floor plan showing access from the existing house kitchen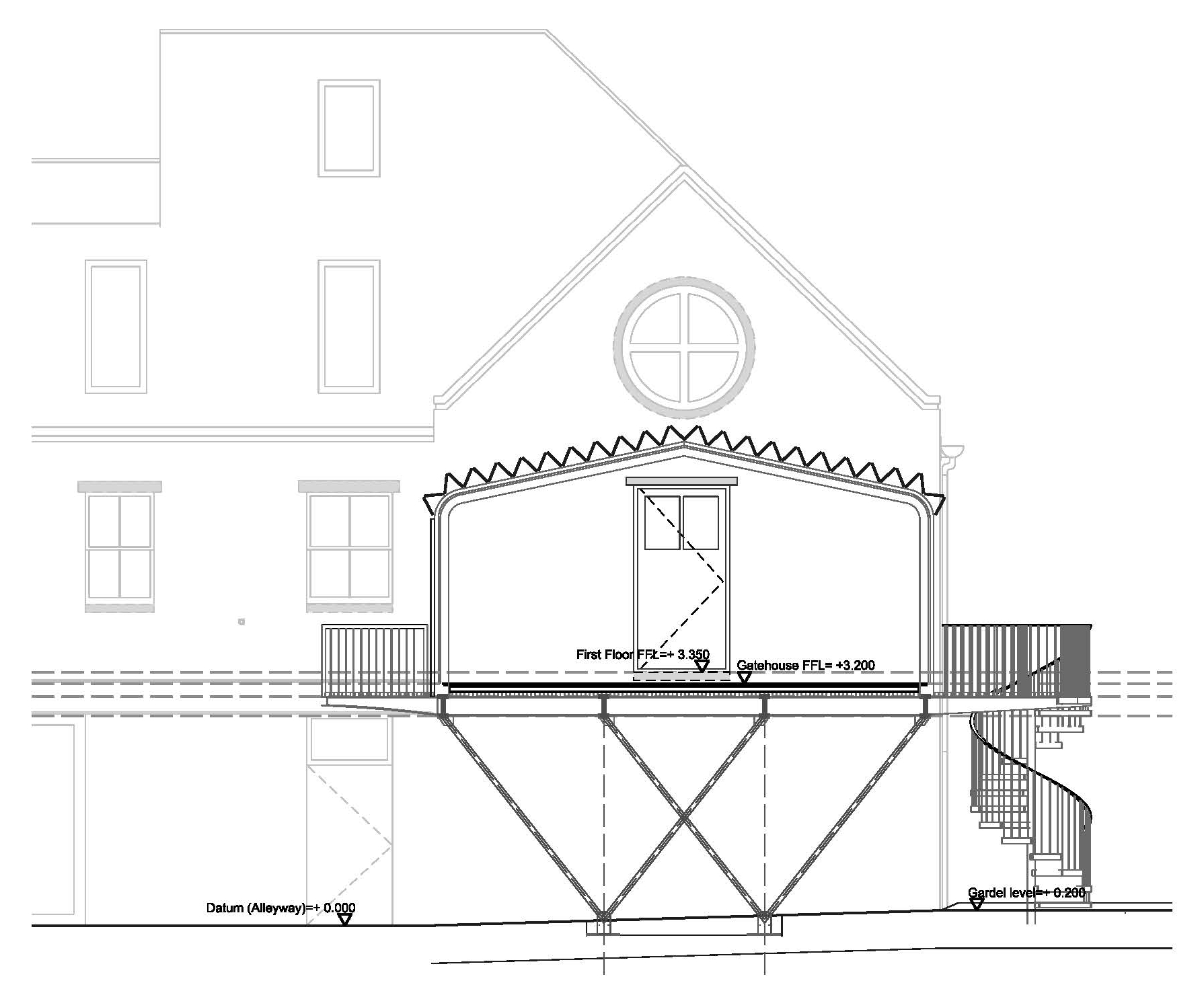 Section showing the elevation of the client's house - a renovated Victorian barn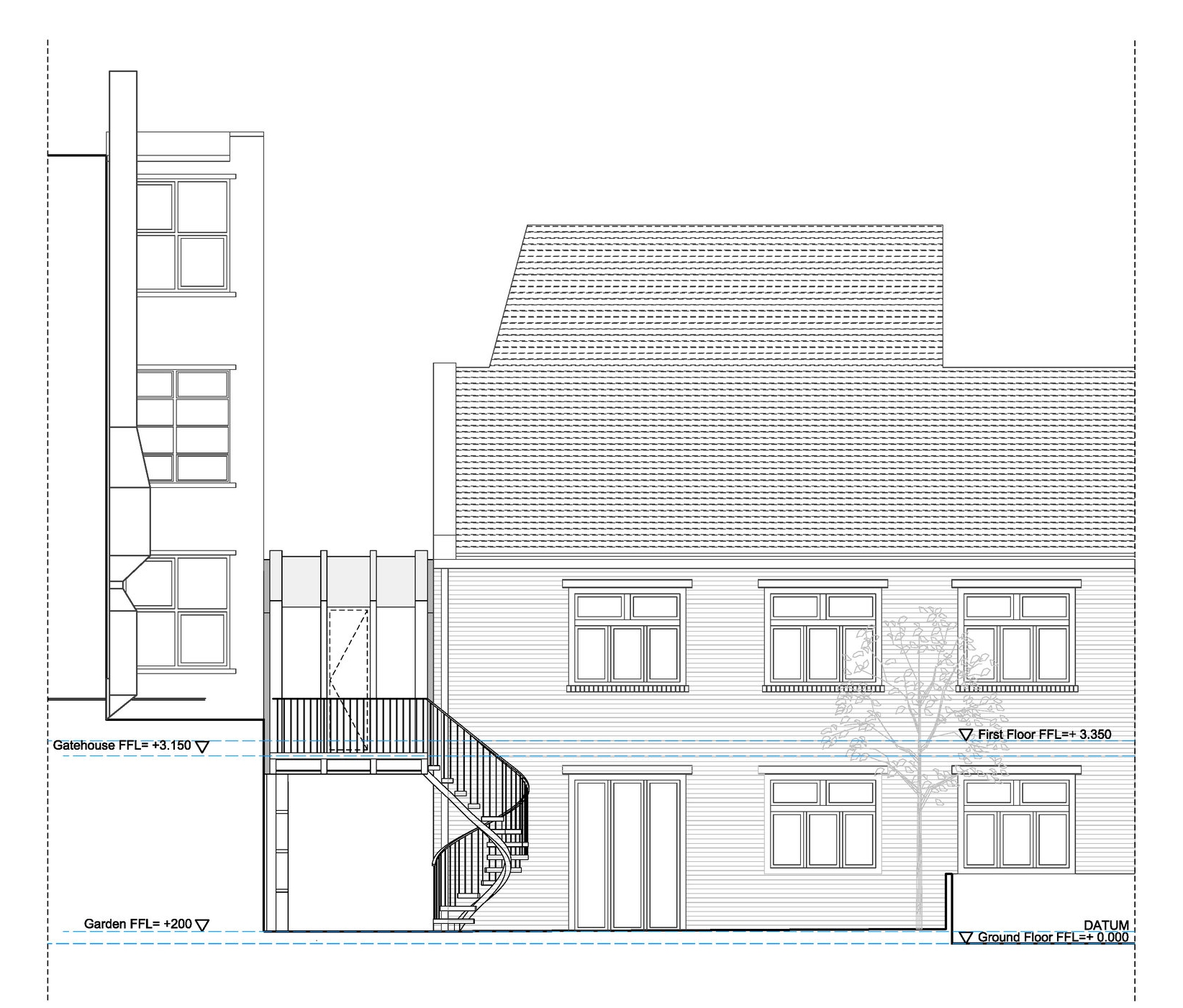 Back elevation showing the studio's backyard
A panelled shading system folds up completely against the extension's ridge
Spiral stair and balcony are bespoke industrial looking items to blend with the studio ethos
The internal layout was designed to allow for flexible configurations, using bespoke modular furniture
Shading system and ground floor gates were designed almost as a continuous curtain to preserve a sense of continuity
Entrance from the house's kitchen into the new extension
The new access shows the integration between old an new: old oak->rebuilt blue bricks->glass floor->heated oak flooring
The new extension incorporates one balcony on either side (North-South), expanding the domestic space
Curved glass panels allow folding shading system to slide along the glazed surface
Maximum transparency was a key requirement in order to respect the appearance of the existing barn building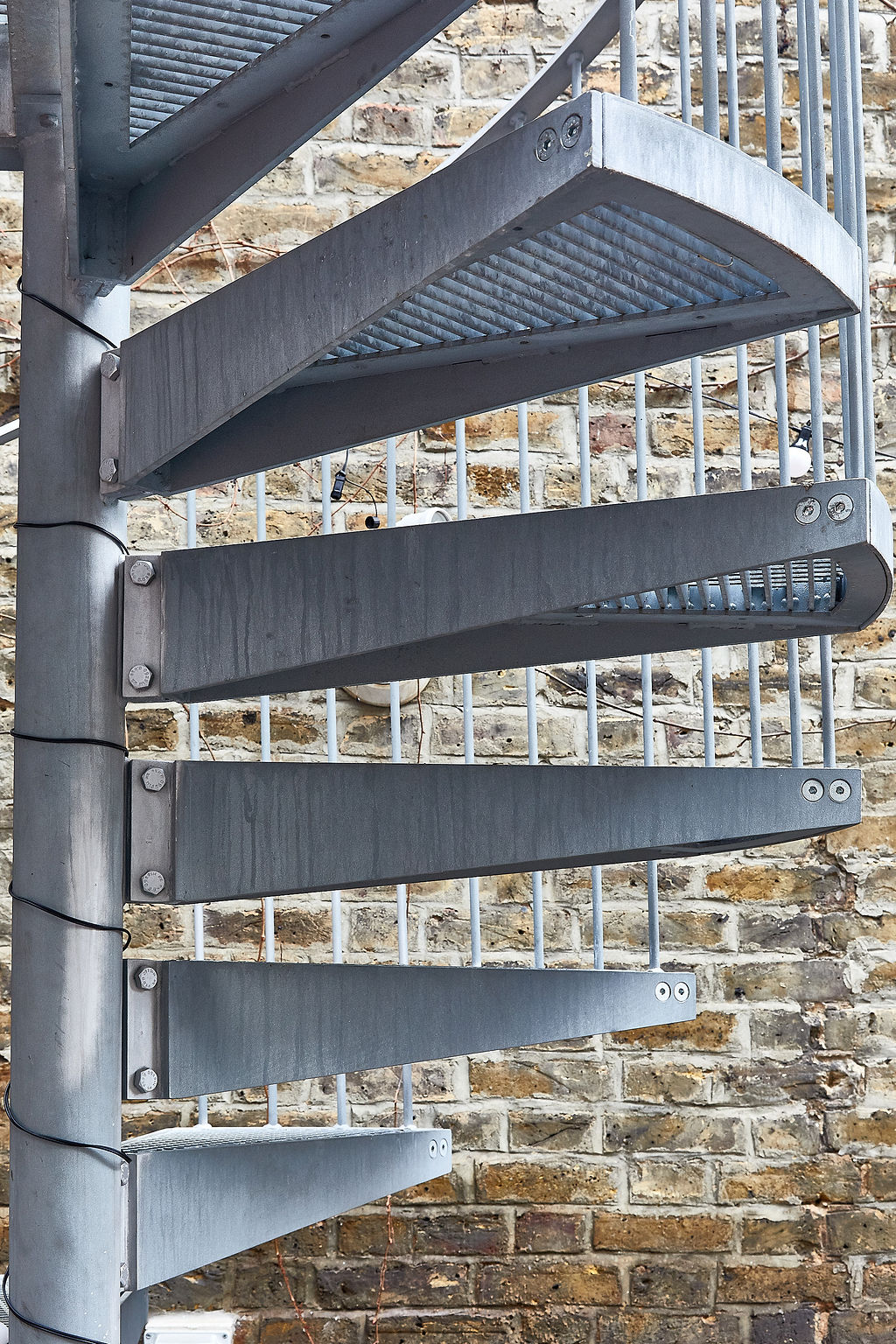 Bespoke details of the spiral staircase made of open mesh steel grating to match the balconies
The underside of the extension, at ground floor, was designed as an occasional working bay and storage for the workshop. The steel structure was adapted to create a personalised shelving system
The alleyway gates under the extension were designed with perforated aluminium sheets to maintain the visual permeability at both levels
The slender structure was designed to create a personalised shelving system for the workshop: function, structure and architecture are fully integrated
Lighting was integrated between the beams to enable an occasional sheltered working bay under the extension